Incessant Affection Leaping over the Separation by Mountains and Waters — Sharing about Online Learning Experience by Students of the IMPA-BRI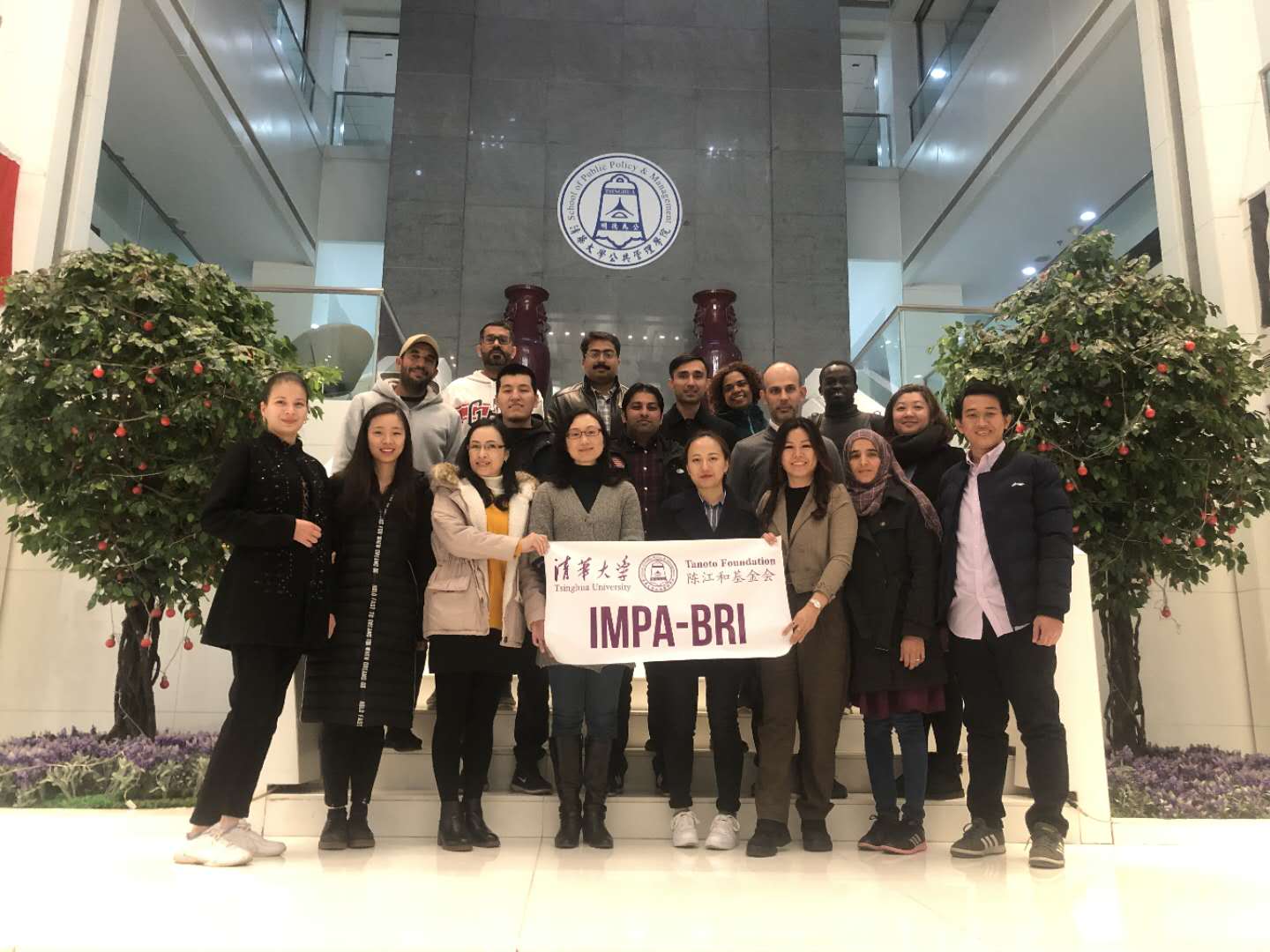 At 8 o'clock on April 27, 14 students from 9 countries showed up on the computer screen to attend the course themed 'Belt and Road' and the New Pattern of the Global Economy. According to the teaching plan, the students will discuss the important role of the IMF in the economic development of emerging countries. Such an online course is not strange to the students of the International Master of Public Administration in the Belt and Road Initiative (IMPA-BRI), which is financially sponsored by the Tanoto Foundation and delivered by the School of Public Policy & Management, Tsinghua University.
The ongoing outbreak of COVID-19 has postponed the time of returning to school and brought radical change to the teaching space and methods. Faced with the challenges brought by countries and time difference, the students of the IMPA-BRI continue to stay hungry for learning, and actively and orderly participate in online learning despite the difficulties brought by the pandemic. Currently, these students are studying hard online in their countries in hope of graduating on schedule with high quality.
Recently, the Tanoto Foundation interviewed several students who are unable to return to school from their countries. Let's find out how they think about online learning.
Q: What are challenges you've encountered during online learning? Can you overcome them?
Liu Jiaming, from Singapore: From offline to online learning, I was really not used to it at first and felt embarrassed to the camera. But now I take it easy (smiling). I live in Singapore, so I have no trouble with jet lag. Our classmates from other countries have 10 hours or more in jet lag, but they are still very punctual and actively attend each class.
Silva Bento Guimaraes, Janaina, from Brazil: When I traveled back to Sao Paulo in February this year, I learned that our course would be held online. At first, I was not sure if it was a good news. We foreigners need to discuss complex topics using different languages in different countries, where the Internet service and quality also vary. And Brazil is 11 hours behind China. All these worried me very much. However, to my surprise, after a period of online learning and interaction, I found that I developed good communication skills online. I also made many new friends via Zoom and WeChat and had a good time in various lectures. Tsinghua University set forth high requirements for online courses the same as those for campus learning, sometimes even higher. Some professors have made great efforts to teach across time zones when I'm available so that I don't need to get up at 3 a.m. Some would upload their courses on YouTube and look for a convenient time to discuss with students. I have never imagined any university that could have such perseverance and thoughtfulness for students.
Q: As you cannot communicate face to face with your classmates and teachers, will it affect the quality of communication?
 Liu Jiaming, from Singapore: In this special learning environment, although the resources available are greatly limited compared with those on campus, it gave birth to new friendship. Every one of us pays more attention to interaction. Through frequent communication, we are more like a big family, united and interactive, thus alleviating the loneliness and drifting feeling from inside out. This is my feeling about online learning.
Munkhjargal, Enkhjin, from Mongolia: Although we are far away from each other, we can still share our current feelings through video, talk about our national countermeasures to COVID-19, encourage and accompany each other. Stricken by the merciless pandemic, we have felt the warmth around us. I feel very happy with my dear classmates and professors online during this special period. I also would like to appreciate the Tanoto Foundation which has continuously given us material and spiritual help. I believe that we will continue to study hard and look forward to meeting again in Tsinghua.
Online Exchange among Students of the IMPA-BRI Program
 Q: Have you paid attention to any news about China in your country? What do you think of China's moves and actions during this pandemic?
 Silva Bento Guimaraes, Janaina, from Brazil: I have learned that after the sudden outbreak of COVID-19, as a powerful country, China actively undertook to satisfy international community's increasing demand for medical supplies, donated money to WHO in response to the pandemic, bolstered the construction of health systems in developing countries, and frequently attended seminars to exchange successful anti-pandemic experience with many countries and regions. To prevail over a disease that threatens all, unity and cooperation are the most powerful weapon. We firmly believe that all countries around the world, including China, will be able to win final victory over the COVID-19 pandemic through global cooperation.
The students interviewed are very confident about the future and face up to the new situation and challenges with a positive attitude, striving to study hard despite jet lag and other inconveniences. As is told by Tsinghua University, the students of the IMPA-BRI Program have already completed and submitted their graduation theses.
According to Zhu Xufeng, Asscioate Dean of School of Public Policy & Management, Tsinghua University, the Tanoto Foundation and the School of Public Policy & Management have actively cooperated to set a precedent by launching the IMPA-BRI Program, in an effort to expand the scope of cooperation and exchange between countries along the Belt and Road, and to cultivate top talents in public administration for countries along the routes. In response to the pandemic, Tsinghua University made the important decision to "postpone the opening of the school but start the course as scheduled". Under the overall requirements of Tsinghua University, the School of Public Policy & Management has adopted a raft of countermeasures and mechanisms during the period, such as online digital teaching in Rain Classroom, to ensure that the online teaching task could be completed orderly with high quality in the spring semester. At the same time, the students of the IMPA-BRI Program stay hungry for learning and overcame a lot of difficulties. With concerted efforts of faculties and students, a good teaching result has been achieved. The School of Public Policy & Management would like to extend sincere appreciation to the Tanoto Foundation, the students of the IMPA-BRI Program, and all faculties and students for your contributions during the pandemic. The victory of the battle requires us to work together and forge ahead to build a community of shared future for mankind!
The International Master of Public Administration in the Belt and Road Initiative Program
The IMPA-BRI Program is one of the subprojects of the Tanoto Foundation under the "Belt and Road" Talent Development Program. The Program is offered at Tsinghua University, guided by the National Development and Reform Commission (NDRC), hosted by International Cooperation Center (ICC) of the National Development and Reform Commission (NDRC) and Tanoto Foundation. It is particularly designed to promote the coordinated development and talent strategy of the countries participating in the BRI.
The International Master of Public Administration in the Belt and Road Initiative (IMPA-BRI) Programis designed for government officials, senior enterprise managers, administrative heads and senior managerial staff of universities/colleges/academic institutions. It takes advantage of public administration discipline, combines frontier theories of public administration, China's development experience and the BRI, and cultivates high-level professionals with understanding of China's national conditions and analytical and coping capabilities for international affairs through course studies, field research and thesis writing. The 19 students from 11 countries enrolled in the IMPA-BRI Program in its first year have graduated and returned to their jobs.